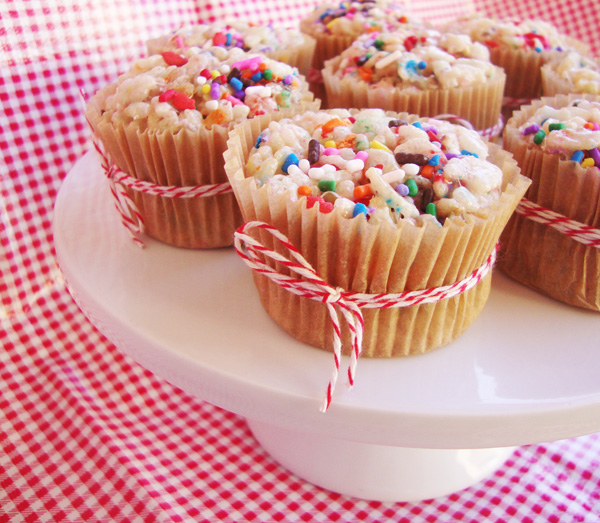 I'll have to say that I don't usually try a recipe as soon as I find one, but I was baking things for the school play treat table and came across this recipe.  It sounded easy and yummy...and cute!  I found the recipe here.
Cake Batter Krispie Treats
3 Tablespoons butter
1 - 10 oz. bag miniature marshmallows
1/3 cup white cake mix - not prepared, just the dry mix
1 - 1.5 oz. container of sprinkles (Jimmies) - these are mixed colors, but you could use what ever kind you like
6 cups Rice Krispies
Put parchment paper inside a 9" x 13" pan; set aside.  Melt the butter in a 3 qt saucepan over medium heat; add marshmallows and stir, coating with the butter, until completely melted.  Add the cake mix, a spoonful at a time, mixing well.  Don't overheat.  Pour over the Krispies, and stir in about half the Jimmies; mix well.  Press into the pan, sprinkling the rest of the Jimmies over the top.  I butter my hands a little and then it won't stick on my hands as I press the treats into the pan.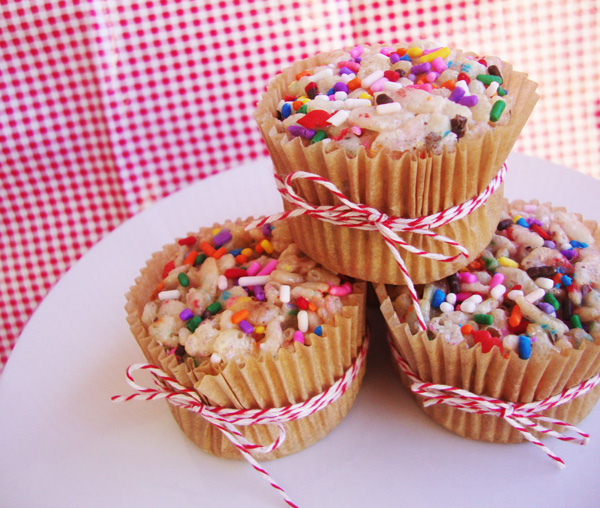 I wanted the Krispie Treats to be tall, so I pressed it into just half the pan...you could use a smaller pan, if you like.  When I'm doing something for a bake sale, I like to make the presentation nice.  Taste is important, but it's just as fun when I hear everyone talking about how cute something is.  Instead of cutting them into a square treat, I used a 2 1/8" round biscuit cutter, put them in a 2 1/2" unbleached baking cup and tied it up with some red and white baker's twine...too cute!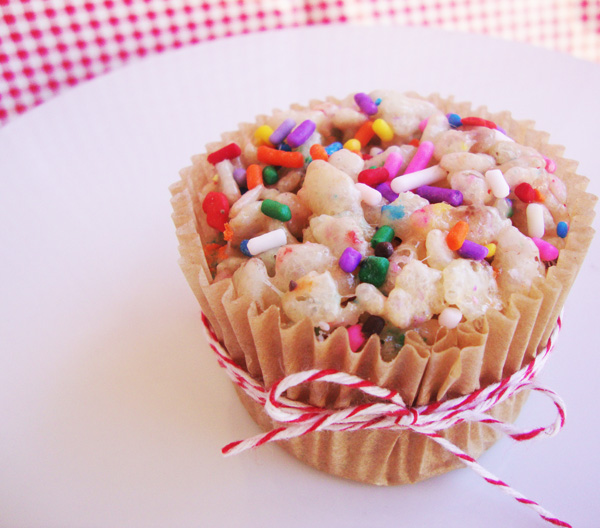 I like the round shape and the fact that these are cake batter (like cupcakes, get it?) in flavor, makes the baking cup papers quite appropriate.  Another side benefit of cutting these out like this?  There are the trimmings left behind for the cook (and her minions) to polish off!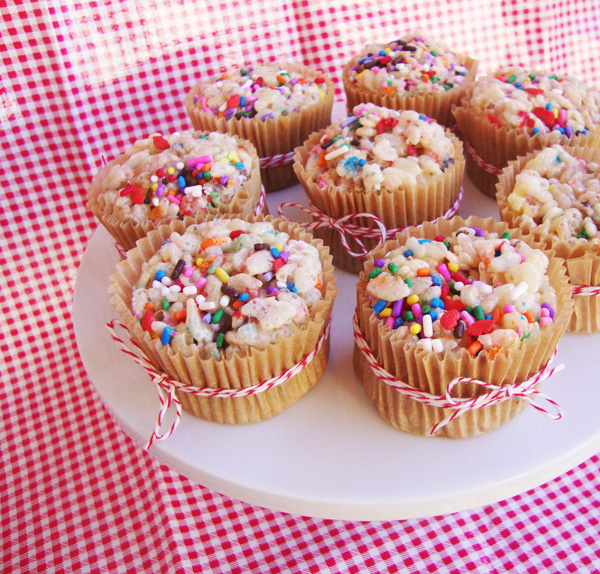 These are really yummy.  I think I need to make more of these for the bake sale because these are apt to go fast - at the bake sale and before they ever get there!
Update:    I have officially died and gone to sprinkles heaven!
It's true...after I discovered the Cake Batter Krispie Treat recipe, I have been on the hunt for good deals on candy sprinkles so that I will always have them on hand.  Just this afternoon I found some pretty, springy sprinkles at the 99centsonly store - about 1.7 oz for just under a dollar.  Good deal, right?  I thought so, too...that is until Megan bought me a box of these...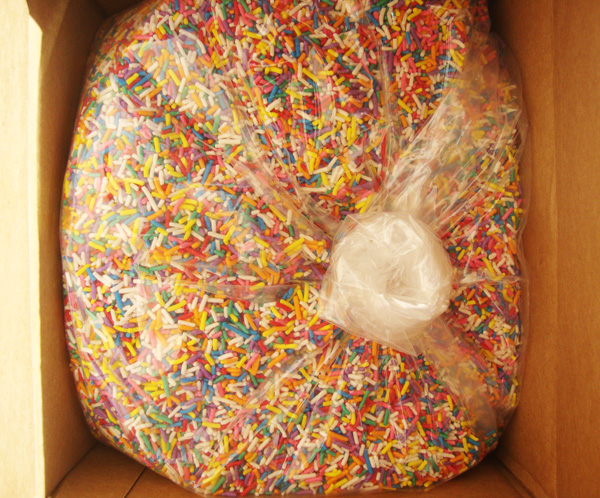 Yep...a whole 10 pound box of the prettiest candy sprinkles EVER for just $15.99 for the whole box - Costco Business.  Aren't they beautiful?  I feel an urge to make some more Cake Batter Krispie Treats...and not share!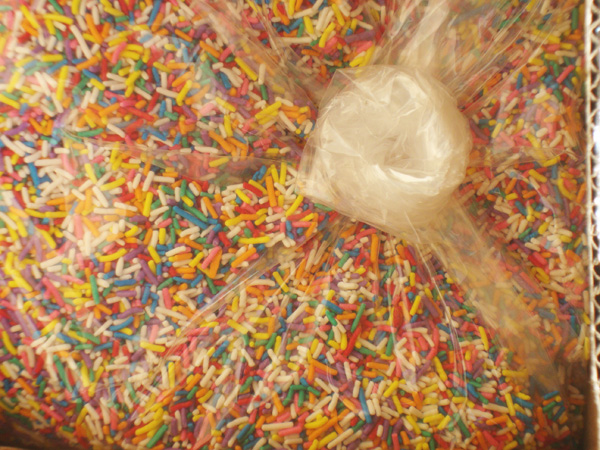 It could just be the beginning of a quest for desserts with sprinkles included.  Who needs a ticket for Mega Millions when you have a box of these!  I am the luckiest girl around!  Thanks, Megan!