Boy…this one popped up way sooner than we expected!  I remember in the old days, it was a joke for all the "unmarried" ladies that we would wonder who we would ask to marry us on Leap Day!  I don't even know if the youngsters have even heard about that one!  But that's okay…it's still just a once every 4 years occurrence, and this year, Disneyland decided to do it up big, like Disney's marketing team always finds a way to do – Disneyland was open from 6am on February 29th until 6am on March 1st…and NO!  We did not do that!  We did, however, want to be a part of the celebration, so Megan took a half day off of work and we headed to Anaheim early afternoon, anticipating a big crowd and not planning on staying too late.
When we arrived, we were directed to the top level of the parking structure.  I had never done that before and Megan only once before.  The crowd was steady, but not too bad.  We even got right onto the tram.  It wasn't until we approached the entrance that we discovered a minor problem:  they were filming an episode of  "Modern Family" on what was sure to be one of the busiest days of the year!  Blah!  There was a single-file line to ONE entrance gate that we had to stand in for about 45 minutes before we could even get into the park!  Mind you, I have never watched the show, so I don't even know if I got anyone's picture, but here is what it looked like from outside the gate…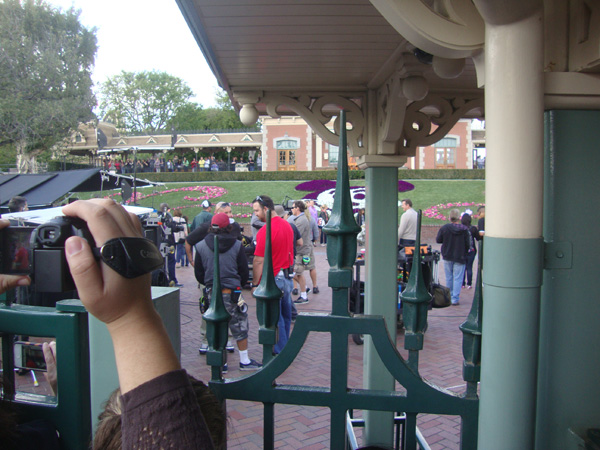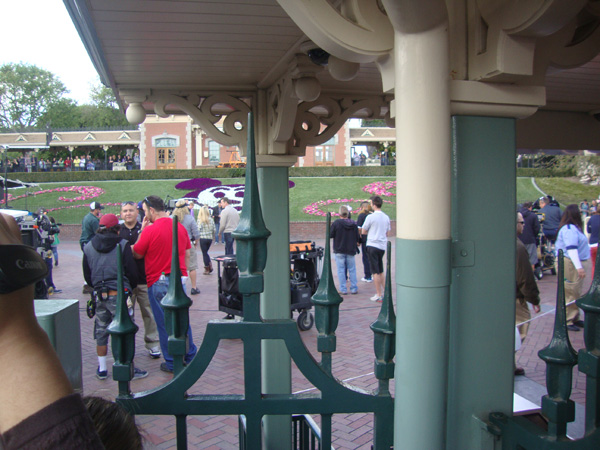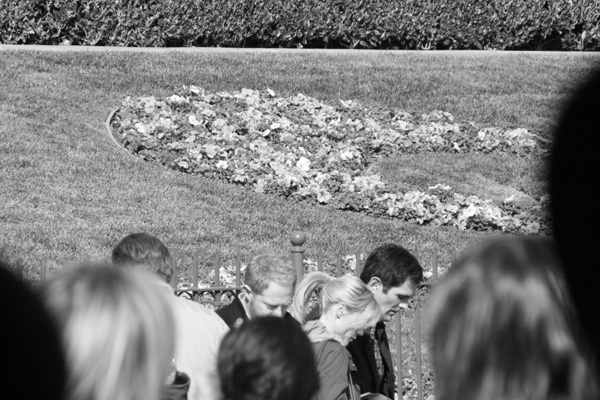 Do you see anyone from the show?  I can't tell!  Megan took this black and white before she realized she needed to change the settings on her camera.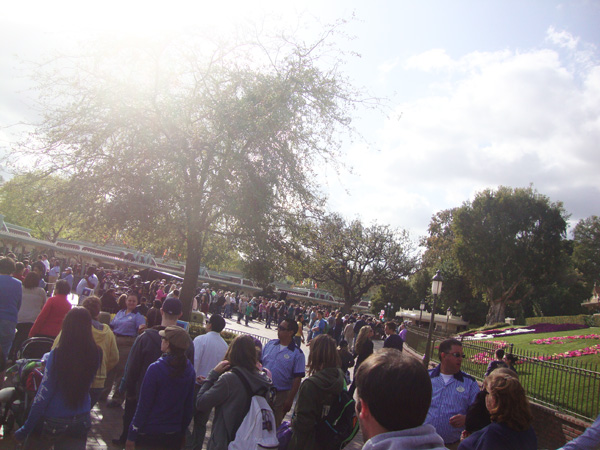 Of course we had to follow the designated path into the park…no pictures for us by the floral Mickey head!
Once in, this is what we found: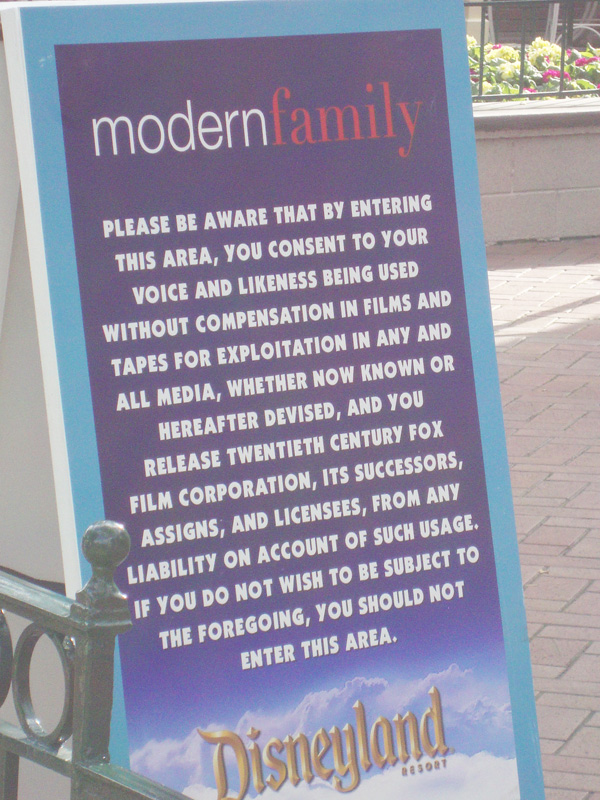 Honestly?  There was no way that security was letting us anywhere near the filming.  We lingered for a minute, then we decided that we were wasting our time looking for "famous people" that we didn't even know what they looked like.
As you can see, the Matterhorn is still under renovation.
We didn't go on very many rides on the "one more Disney day", but we did hit a few, like Pirates, Haunted Mansion and Buzz.  The lines were not extremely long, but we did keep running into unexpected delays…
A stroller is nothing compared to trying to maneuver with big dollies with camera equipment!
After fighting the crowds, we decided to have an appetizer to give us an energy boost.
These will keep the vampires away for sure!  It did not, however, keep some strange women from bringing their "children" to the park…their images have been cut out so as not to make fun of the people, just their choice of companions for the day. 
There was more than one adult individuals that brought dolls and carried them around with them all day.  I'm sorry…that's just a "wee" bit strange.
There were lots of really cute…and pricey…merchandise designed specifically for the "one more Disney day" event.  These ears were darling…
But we decided that for the price, we would just take a picture and not worry about acquiring another souvenir that would just add to our dusty collection.  Do you notice how they warn you in advance that it is only available on February 29th?  I personally liked the Dumbo one, but I'm being a good girl and not choosing one dust collector for another!
There were also shirts and sweatshirts, which I considered because I had not dressed warmly enough for the weather, but once I looked at the price tag, I warmed up sufficiently to pass – $60 was too rich for my budget right now!  They sure were nice looking, though!
Special merchandise was not limited to things you wear.  There were cupcakes and dipped apples as well.
The later it got, the longer the line in the stores for people trying to warm up with coffee…no room for other shoppers in this store!
The windows on Main Street have switched up a little…
I think I'll borrow this idea for cupcakes a little closer to Easter!
I wish I canned vegetables…these are beautiful – and probably not real!
This window is different from Valentine's day…
but I notice that there is something that I really would not have left if I were dressing the Main Street windows!
I'm just saying…
The longest line we waited in all day was the one to get a picture in front of this sign…I won't even tell you how long we waited…it's embarrassing, you know, but once you've waited that long, it is just our stubbornness not to walk away until we have accomplished what we were waiting for!
As we were approaching the entrance to leave, we started getting wind of what the late-comers had been through to get into the park, which was, by this time, at capacity.  We were hearing things like "3 hours to get off the freeway" and "turning people away" and "everyone's honking".  Those conversations were overheard MANY times on our way out of the park.  When we arrived at the parking structure and took a look over the edge, this is what we saw at 11:00pm:
And yes, the traffic was backed up on the freeway exits – there were still people trying to get into Disneyland as we were leaving!
My advice if you want to do this – if Disneyland does this again, and I can't imagine why they wouldn't – in four more years, is to come early and don't stay all night…unless maybe you get a hotel room to take a nap in somewhere along the way!